Cropped Decoding on BCIC IV 2a Dataset#
Building on the Trialwise decoding, we now do more data-efficient cropped decoding!
In Braindecode, there are two supported configurations created for training models: trialwise decoding and cropped decoding. We will explain this visually by comparing trialwise to cropped decoding.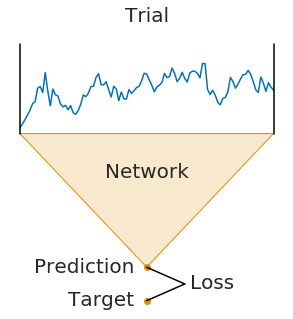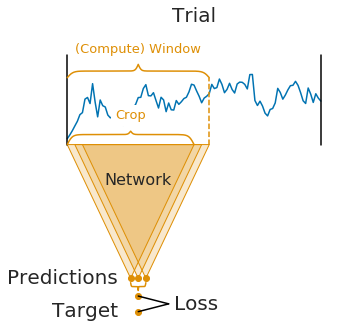 On the left, you see trialwise decoding:
A complete trial is pushed through the network.

The network produces a prediction.

The prediction is compared to the target (label) for that trial to compute the loss.
On the right, you see cropped decoding:
Instead of a complete trial, crops are pushed through the network.

For computational efficiency, multiple neighbouring crops are pushed through the network simultaneously (these neighbouring crops are called compute windows)

Therefore, the network produces multiple predictions (one per crop in the window)

The individual crop predictions are AVERAGED before computing the loss function
This averaging of predictions of small sub-windows is the key difference between trialwise and cropped decoding. It was introduced in [1] and it impact on the parameters of the network.
It is important to note that the averaging of predictions is only done during training. During testing, the network is still applied to crops and the predictions are averaged afterwards.
Note
The network architecture implicitly defines the crop size (it is the receptive field size, i.e., the number of timesteps the network uses to make a single prediction)

The window size is a user-defined hyperparameter, called input_window_samples in Braindecode. It mostly affects runtime (larger window sizes should be faster). As a rule of thumb, you can set it to two times the crop size.

Crop size and window size together define how many predictions the network makes per window: #window − #crop + 1 = #predictions
Note
For cropped decoding, the above training setup is mathematically similar to sampling crops in your dataset, pushing them through the network and training directly on the individual crops. However, the if their position would be randomly selected, the crops would be less correlated in contrast to the neighbourhood crops selected from a window. At the same time, the above training setup is much faster as it avoids redundant computations by using dilated convolutions, see [2]. However, the two setups are only mathematically related in case (1) your network does not use any padding or only left padding and (2) your loss function leads to the same gradients when using the averaged output. The first is true for our shallow and deep ConvNet models and the second is true for the log-softmax outputs and negative log likelihood loss that is typically used for classification in PyTorch.